Capelle on 9-Ball:
Archer vs. Reyes

A new 200-page book by Phil Capelle analyzes a match between Johnny Archer and Efren Reyes.  You will also receive a SPECIAL EDITION of the match on video (or DVD) that includes an instructional section in which Capelle analyzes 25 shots from the match.





Read

the awesome Reviews!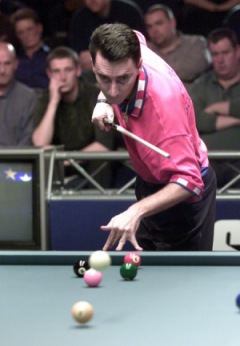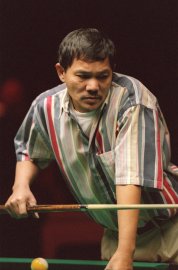 Johnny Archer and Efren Reyes
Photos copyright of AZBilliards.com
Book plus Video $43.95     or     Book plus DVD $49.95
Click Here to Order
---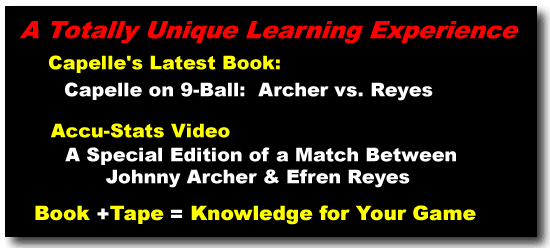 Reviews from the Experts on Capelle on 9-Ball:

"This is a dream combo: Archer, Reyes, and Capelle with one of the best matches of the decade. If you've ever wondered exactly how the pros do it, and how to approach their level in your game, this is the combo for you."
Tom Shaw – Pool & Billiard Magazine
"The understanding that you will gain from Capelle's analysis will help you make tremendous progress in your learning curve."
Mark Whiteside – Inside Pool
"An invaluable aid for those willing to study and learn from the best."
Sheri Richardson – Chalk & Cue
"What Capelle has done is provide one of the most comprehensive discussions of the game of 9-ball with an actual visible study provided by two world-class players. What a way to learn!"
John Cash – The National Billiard News
"I am looking forward to spending many visits with "Capelle on Nine Ball ", and to greatly improving my game!"
John Evans – On the Wire
"After studying the book and tape, the very next weekend I placed second at the first Fast Eddie's Tournament of 2004!"
Melinda Bailey -- Hunter Classics Tour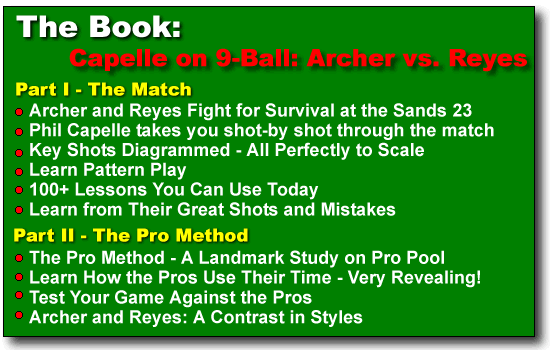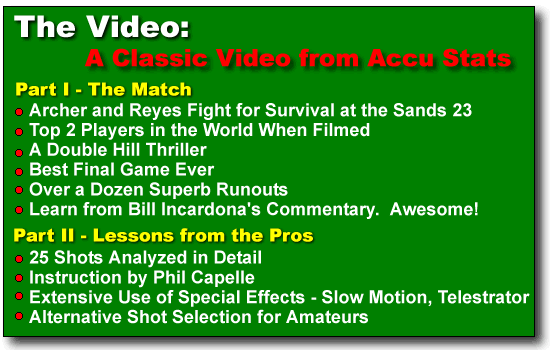 You'll Love these Cool Features in the Book:
All Shots are Numbered for Easy Reference in the book AND on the video
My ABC System for Rating Position Plays & Run Outs
Time Studies Referenced Throughout
Slow Motion – Recommended Shots to Replay
Announcers Discussions – Informative talks by Bill Incardona and David Maddox
References to My Books for Further Information
Primary Emphasis discussed on many position plays
Spectrum of Speed on all shots
Take the Archer - Reyes Test
After watching the pros run racks perhaps you are itching to get to the table. The diagrams in the book provide the basis for a run out exam. There are 16 runouts totaling 100 balls in the diagrams in the book. There are eight runouts for each player. The 16 runouts are comprised of  50 balls for each player. 

A perfect score is 100.